Tofali – The BRCK Intranet Portal
We created an intranet portal for BRCK to help onboard new staff and keep everyone updated on the latest developments at the company.
The Problem
When BRCK was a startup, onboarding new staff was easy. However, like any rapidly growing company, there were small challenges when trying to create new systems to handle the growth. These challenges extended to the onboarding of some new staff members.
While observing this, I decided to see how I could use my skills to help make it easier as the new onboarding process was being finalized. After talking to a number of recently hired staff members, it became clear that what was needed was an intranet.
The Goals
After consulting with the rest of the design team, we came up with the following goals:
Provide new staff with information on what to do on their first day, week and month.
Provide new staff with information about the company, history, products etc
Create profile pages for everyone so new staff members can easily learn about their colleagues.
Move the company's knowledge base to a central location.
Create an internal blog to keep everyone updated with the latest developments at the company
My Role
As this was my initiative, I was the lead on this project. I mainly focused on the user experience, content strategy and development of the intranet while the rest of the design team helped with the UI mockups, photography and graphic design needs for the project.
Structuring the Content
As I continued to interview more of the recently hired staff, I was able to come up with list of the content that was relevant and useful to them.
We then began grouping the content according to categories and eventually came up with the information architecture for Tofali.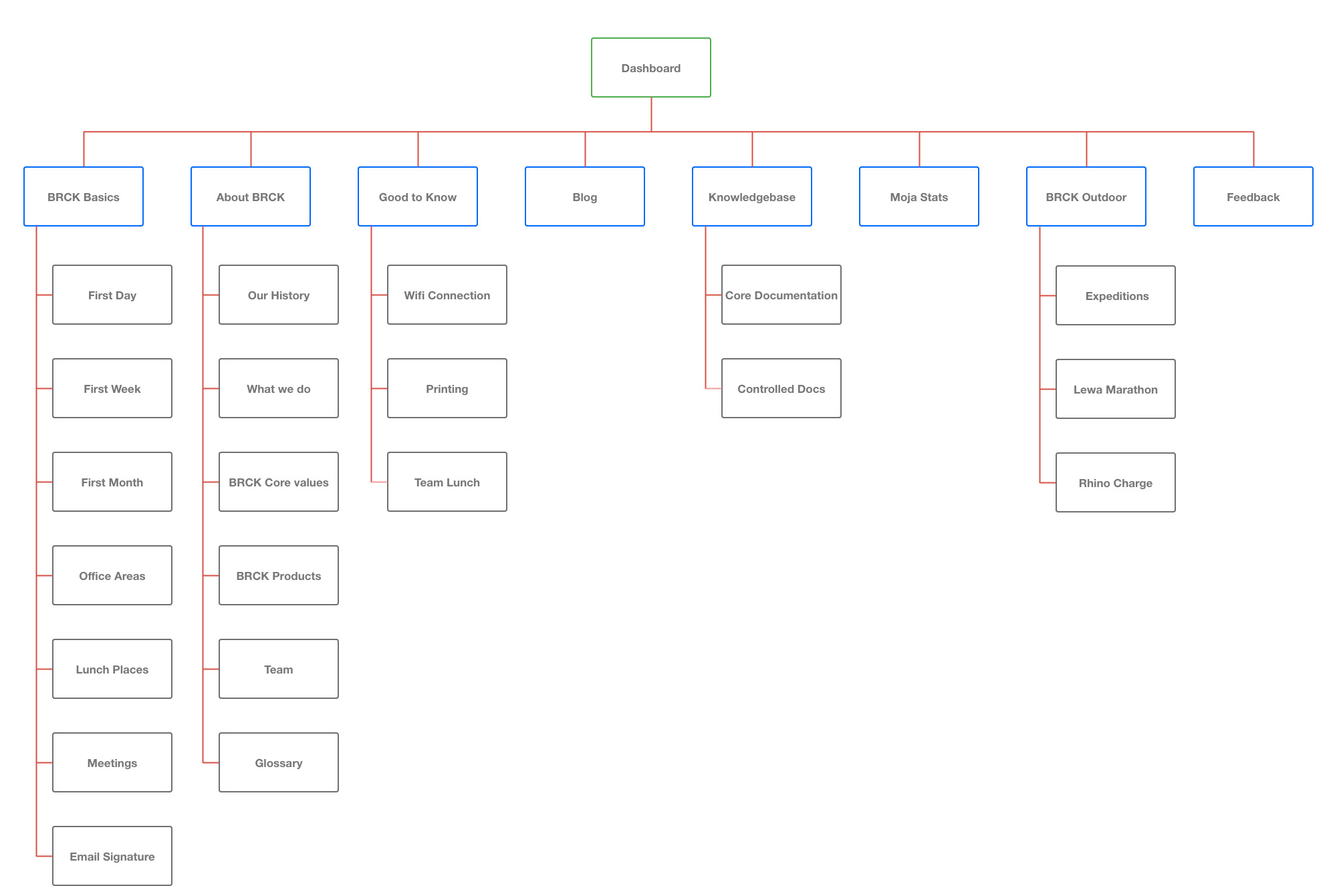 The Dashboard
The Dashboard provides quick access to different sections of Tofali and a visual summary on how our main platform Moja is performing. Additionally, it shows extra information including birthdays, recognitions, a summary of the internal blog etc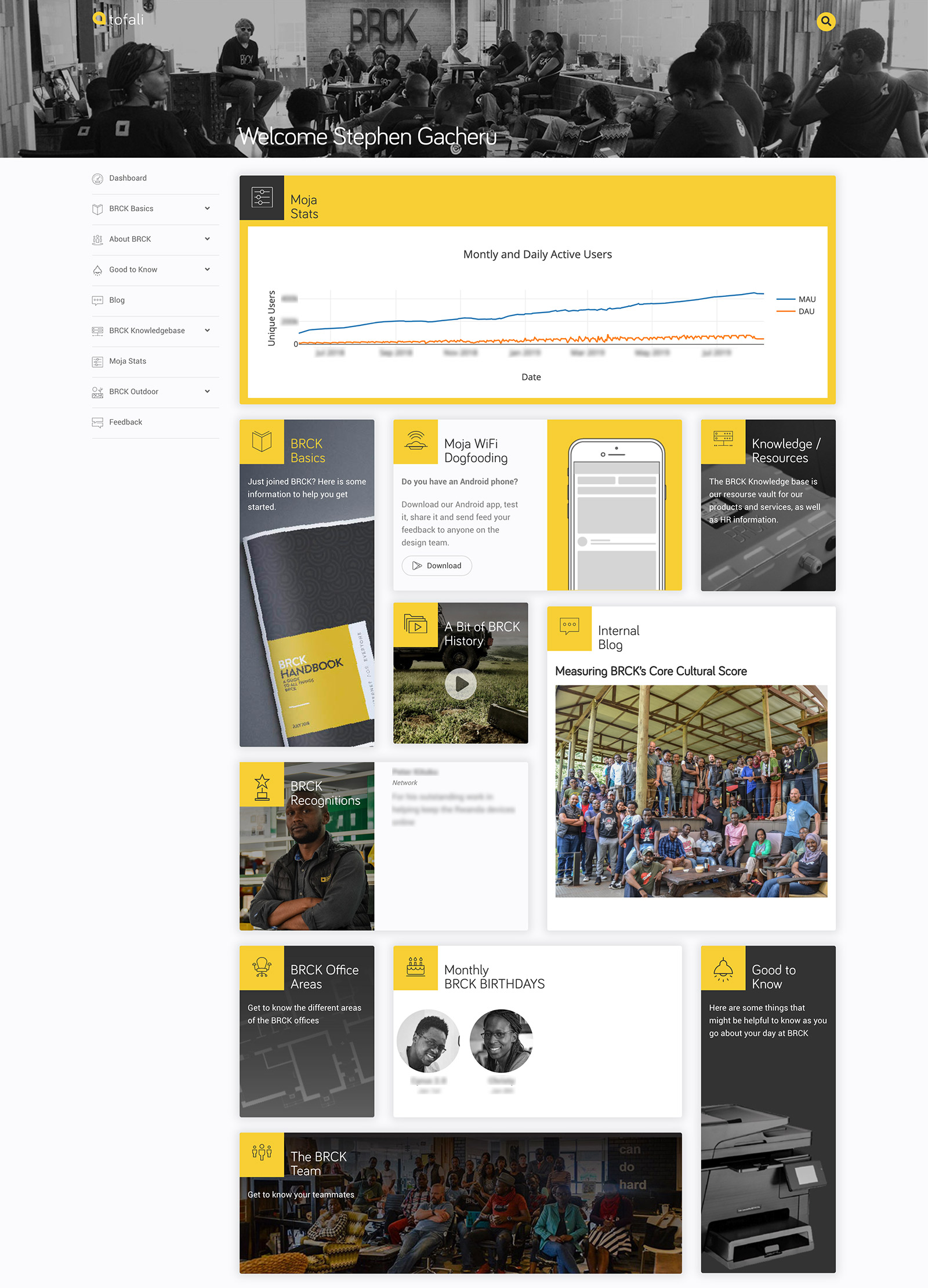 Team page
When a new staff joined the company, they would be taken round to meet the team. But after being introduced to 50+ people, it would be easy to forget most of their names or even what they do.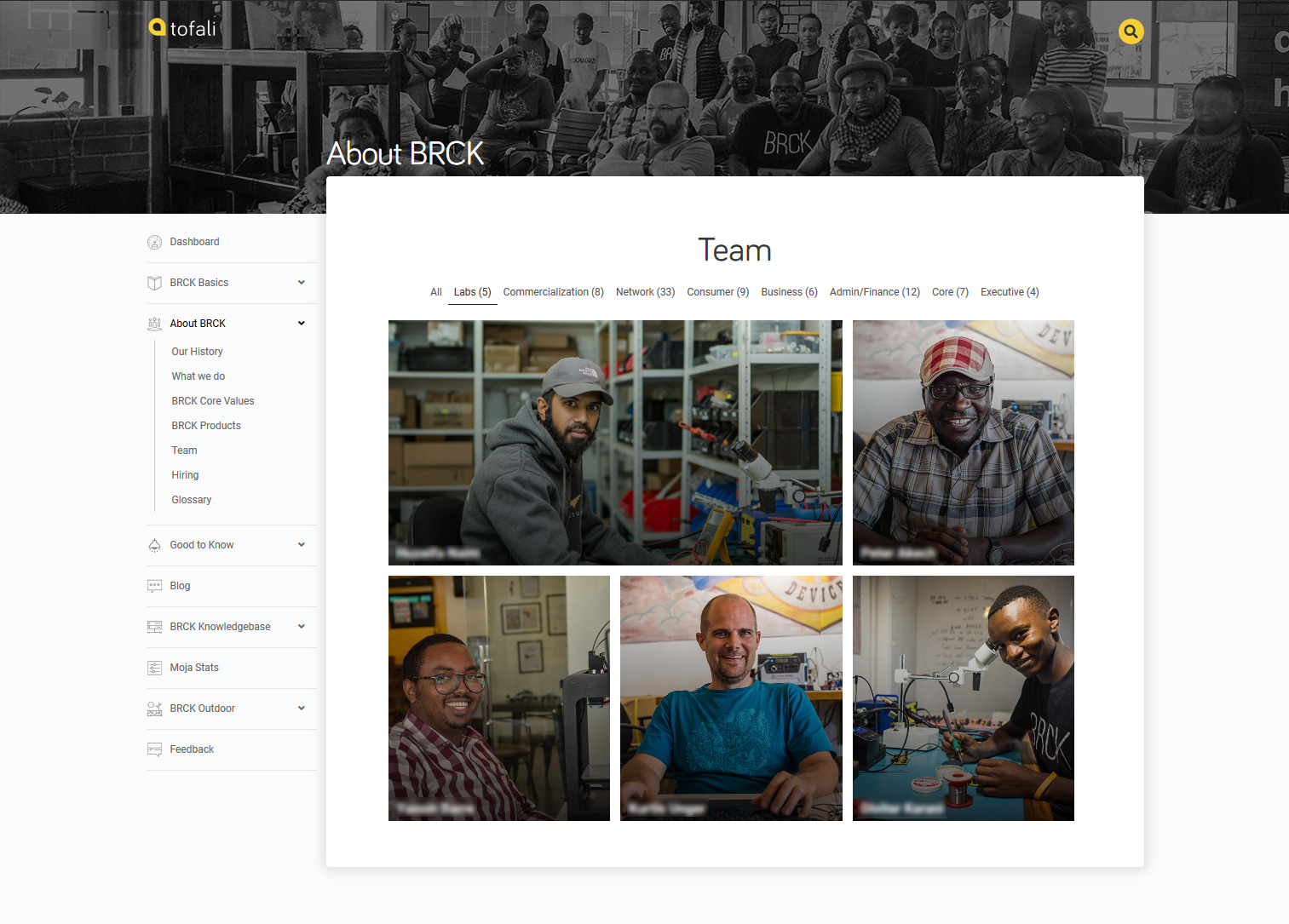 We also noticed that many were hesitant to approach their colleagues from different teams unless there was a need to do so.
To help solve this, we wanted to create interesting profiles for everyone. So we went around taking fun photos of each staff member and highly encouraged them to write creative short bios about themselves.
Though it was challenging at times, it turned out really well and helped show the new staff that BRCK is a place where you work hard but can have fun while doing it.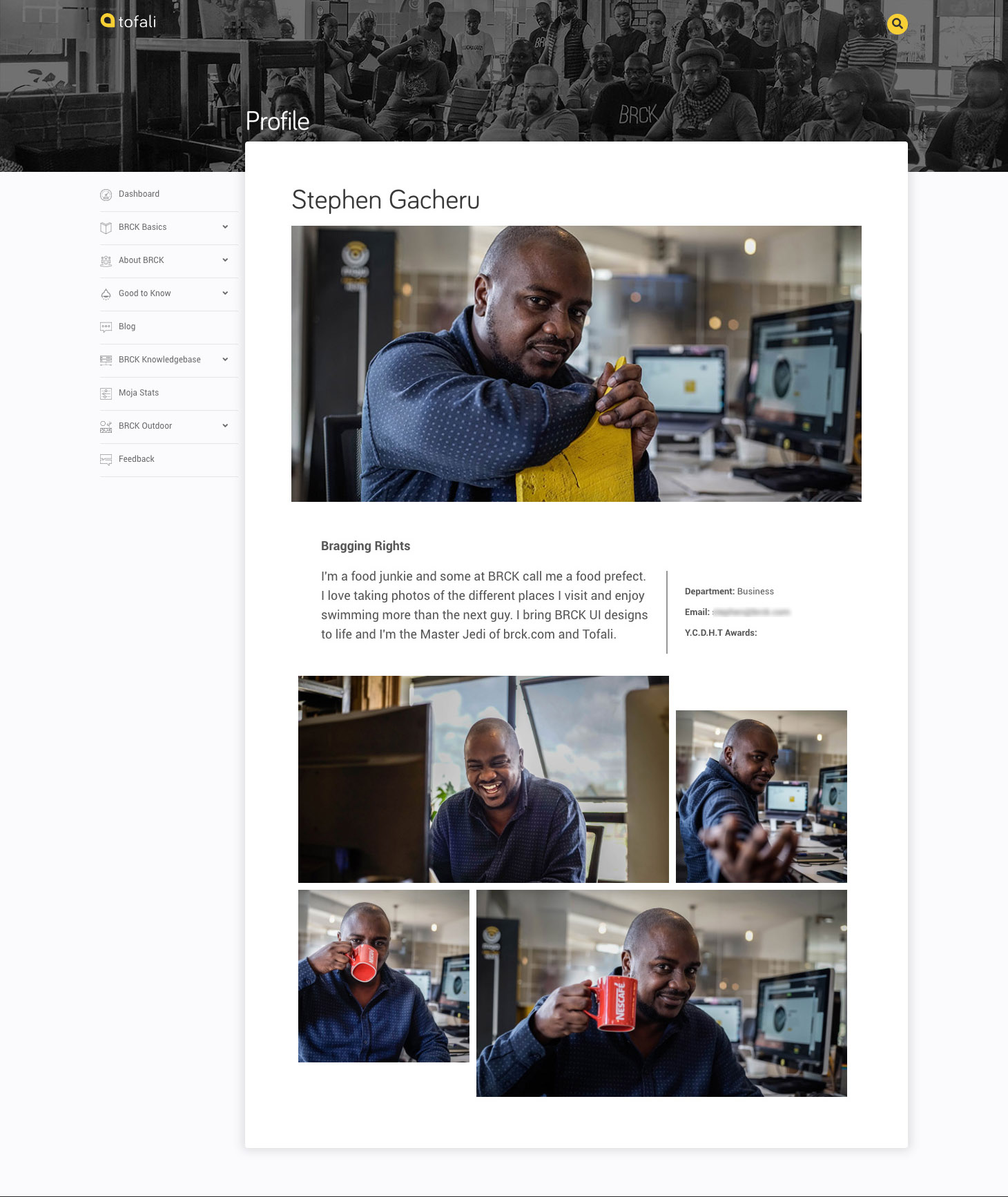 Email signature
To create a more consistent email signature for everyone, we created a simple tool to capture their details.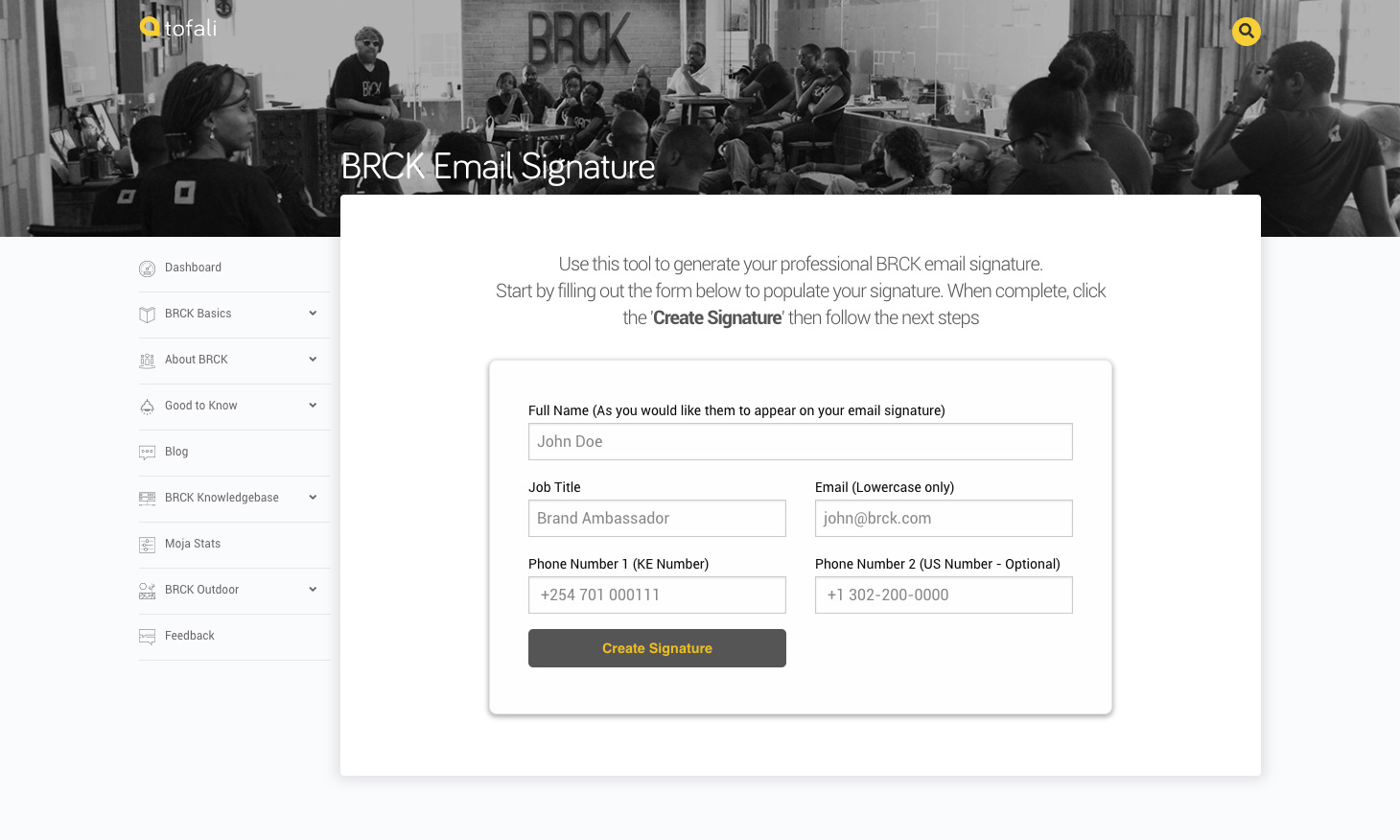 Conclusion
Most new staff found Tofali to be extremely informative and helpful in starting their journey at BRCK. It proved to be truly effective after BRCK acquired Surf and was used to onboard the sizeable number of Surf staff who joined BRCK.
Special thanks to the following people
Jeff Maina – Photography, graphic design and branding
George Ralak – UI design
Barbara Collett – Photography
Sheila Zubeda – Helping with UX